HELEN SMITH FREE WORKSHOPS FOR KIDS
The Delaplaine offers free workshops that explore various artists and art techniques throughout history. These workshops are a part of our Community Outreach Initiative and are made possible through donations from the Helen L. Smith Scholarship Fund for Children and the Arts at the Community Foundation of Frederick County. Helen Smith Free Workshops for Kids are held on most first Saturdays, 1–3 pm.
See current COVID guidance and masking requirements here.
Please contact us with any questions.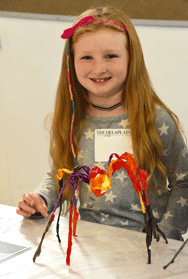 Preregistration is required. The registration request form is available below, beginning at noon on Tuesday two weeks prior to each workshop. Submitting a registration request form is not a guarantee of enrollment; you will receive email confirmation (or regrets) based on availability. Preference is given to first-time participants.
Helen Smith Workshops are geared for children.
No unauthorized visitors are permitted.
Parents are welcome to visit the galleries while the workshops are in session.
The request form for June 4 will be available between noon on Tuesday, May 24, and noon on Friday, May 27.
PLEASE NOTE: The June workshops will take place at the Thurmont Regional Library in Thurmont, MD.
Make Your Own Paper! (Ages 6–8)
Making paper is fun and good for the environment! Students will combine shredded paper with water and add extra interest by using dried flowers, colored thread or glitter to create a one of a kind paper.
Collaborative Collagraph Printmaking Workshop (Ages 9–12)
David Modler
Participants will work together to explore a collagraph relief printmaking process. Several cardboard matrices will be used to develop richly layered abstract designs.
PLEASE NOTE: There are no Helen Smith workshops in July or August. Sign up now for our Summer Art Camps for Kids & Teens!
Support youth arts education!
The Art of Giving