HELEN SMITH FREE WORKSHOPS FOR KIDS
The Delaplaine offers free workshops that explore various artists and art techniques throughout history. These workshops are a part of our Community Outreach Initiative and are made possible through donations from the Helen L. Smith Scholarship Fund for Children and the Arts at the Community Foundation of Frederick County. Helen Smith Free Workshops for Kids are held on first Saturdays, 1–3 pm.
PLEASE NOTE: The Delaplaine is following health and safety protocols recommended by local, state, and federal agencies. If you or a member of your household have any symptoms of COVID-19, please stay home. While at the Delaplaine, follow our guidelines for wearing masks and social distancing.
Please contact us with any questions.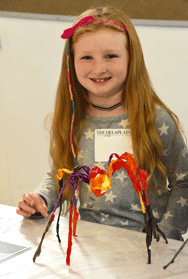 Preregistration is required. The registration request form is available at noon on Tuesday  — two weeks prior to each workshop. 
The Helen Smith Workshops are geared for children. No unauthorized visitors are permitted. Parents are welcome to visit the galleries while the workshops are in session.
Next Helen Smith Free Workshop for Kids:
Memory Catchers (Ages 6-8)
Capture the memory of your favorite kind of day through explorations in color and texture! Design a unique textile composition using weaving techniques to express the emotions you feel on just such a day!
Inktober Drawing Jam! (Ages 9-12)
Inktober was created by Jaker Parker in 2009 as a challenge to improve his inking skills and develop positive drawing habits, and it has since grown into a worldwide endeavor with thousands of artists taking on the challenge every year. Experiment with Lynda Barry's drawing jam method to start a collection of ink drawings based on the 2021 Inktober daily themes.
Support youth arts education!
The Art of Giving