HELEN SMITH FREE WORKSHOPS FOR KIDS
The Delaplaine offers free workshops that explore various artists and art techniques throughout history. These workshops are a part of our Community Outreach Initiative and are made possible through donations from the Helen L. Smith Scholarship Fund for Children and the Arts at the Community Foundation of Frederick County. Helen Smith Free Workshops for Kids are held on most first Saturdays, 1–3 pm.
See current COVID guidance and masking requirements here.
Please contact us with any questions.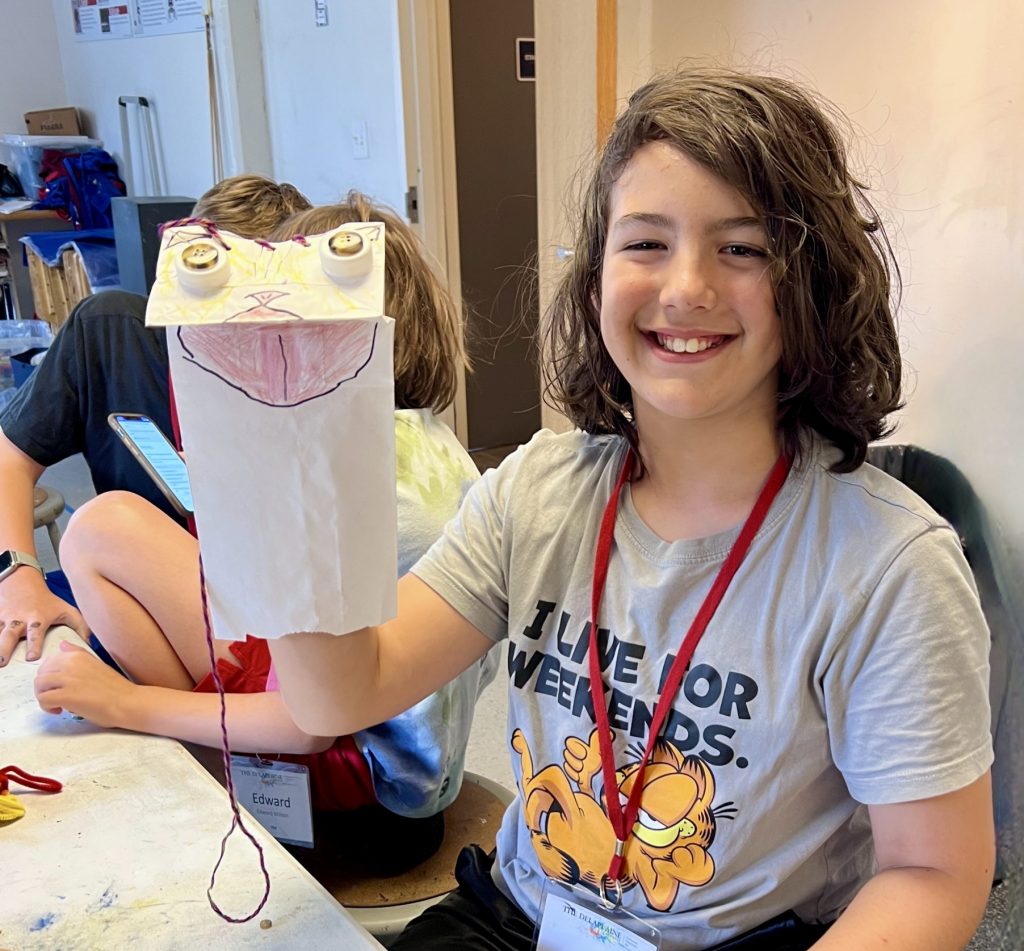 Preregistration is required. The registration request form is available below, beginning at noon on Tuesday two weeks prior to each workshop. Submitting a registration request form is not a guarantee of enrollment; you will receive email confirmation (or regrets) based on availability. Preference is given to first-time participants.
Helen Smith Workshops are geared for children.
No unauthorized visitors are permitted.
Parents are welcome to visit the galleries while the workshops are in session.
Saturday, Sept 3 • 1–3 pm
Registration opens on August 23
Scavenger Printmaking (Ages 6-8)
Elizabeth Jenkins
Learn about the cultural and historical significance of printmaking and create your own stamps from recycled materials such as cardboard, yarn, plastic, and more! Click here to register.
Illuminated Letters (Ages 9-12)
Kelli Harrison
Create a detailed drawing of an illuminated letter, similar to those used in handcrafted books in the 13th century to help tell stories. Then, transfer your drawing onto heavy aluminum foil and matte it on black paper to finish your project! Click here to register.
Saturday, Oct 1 • Myersville Community Library
Registration opens September 20
We're taking the workshops on the road in October! Register to join us at the Myersville Library, 8 Harp Pl, Myersville, MD 21773.
Ages 6–8 • 1–2:30 pm
Click here to register.
Ages 9–12 • 3–4:30 pm
Click here to register.
Saturday, Nov 5 • 1–3 pm
Registration opens October 25
Drip Painting (Ages 6-8)
Amy Wood
Inspired by artists Helen Frankenthaler and Sam Gilliam, experiment with pouring paint on the surface of your paper to create compositions using gravity and your hands! Click here to register.
Famous Photographers (Ages 9-12)
Maxine Campisciano
Take a hands-on journey and meet several artists: Hiroshi Sugimoto, Clyde Butcher, and Ansel Adams. Learn about each artist's unique contributions to the world of art and leave with a completed piece of art inspired by them! Click here to register.
Support youth arts education!
The Art of Giving