HELEN SMITH FREE WORKSHOPS FOR KIDS
The Delaplaine offers free workshops that explore various artists and art techniques throughout history. These workshops are a part of our Community Outreach Initiative and are made possible through donations from the Helen L. Smith Scholarship Fund for Children and the Arts at the Community Foundation of Frederick County. Helen Smith Free Workshops for Kids are held on first Saturdays, 1–3 pm.
See below for health and safety protocols and guidelines.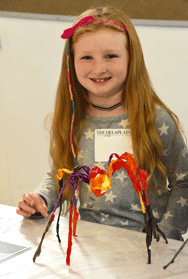 Preregistration is required. Registration opens at noon on the Tuesday two weeks prior to each workshop. Submitting a registration request is not a guarantee of enrollment. Registration confirmation could take up to 2 days. Space is limited, and preference is given to first-time participants.
The Helen Smith Workshops are geared for children. No unauthorized visitors are permitted. Parents are welcome to visit the galleries while the workshops are in session.
PLEASE NOTE: Classes, times, and location (on-site and online) are subject to change.
Registration for April is now full.
Recycled Cardboard Animals (Ages 6–8)

Instructor Cindy Yount
Use recycled cardboard while exploring a variety of mediums and working with shape, color, and lines to create unique, surreal animals! 
Watercolor Paint Exploration (Ages 9–12)

Instructor David Modler
Explore a wide variety of watercolor paint techniques, learn experimental processes, and develop work with personal ideas as you create several watercolor paintings.
SATURDAY, MAY 1 • 1–3 PM
Registration opens Tuesday, April 20 at noon.
Andy Goldsworthy Nature Collage (Ages 6–8)

Hannah Jacobs
Create colorful nature collages inspired by artist Andy Goldsworthy! Utilizing a mix of natural items and craft supplies, you'll create a collage reminiscent of Goldsworthy's nature sculptures.
Five Universal Shapes (Ages 9–12)

David Modler
Discover the five universal shapes and experiment with a variety of drawing, painting, collage, and image-transfer activities as you explore their potential for authentic meaning-making.
SATURDAY, JUN 5 • 1–3 PM
Registration opens Tuesday, May 25 at noon.
James Rizzi Designs (Ages 6–8)

Hannah Jacobs
Create a bird, city, or pair of faces inspired by the work of American pop artist James Rizzi! Use a mixture of media, including pastels and watercolor paints, to make a colorful, unique work of art.
Improvised Mixed-Media Collage Compositions (Ages 9–12)

David Modler
We'll analyze the art of Wassily Kandinsky as you explore and stretch your painting, drawing, and collage processes to construct your own abstract designs.
Health & Safety Protocols
The Delaplaine is following health and safety protocols recommended by local, state, and federal agencies. Students are asked to follow these guidelines:
Before coming to class, be alert for symptoms. Watch for fever, cough, shortness of breath, or other symptoms of COVID-19. If you or a member of your household have any of these symptoms, stay home.
While at the Delaplaine:

Face masks are required at all times, including inside classrooms.
The Delaplaine is practicing physical distancing in all areas. Please stay 6' apart from others at all times and respect the Delaplaine's guidelines for moving through the building and spacing apart.
Avoid sharing items and materials with others as much as possible.
Wash your hands often with soap and water for at least 20 seconds, especially: after using the restroom; after blowing your nose, coughing, or sneezing; after touching items shared with others.
Avoid eating in the classroom. If you must have something to eat, wash hands before and after doing so.
Avoid touching your eyes, nose, and mouth with unwashed hands.
Cover your mouth and nose with a tissue when you cough or sneeze or use the inside of your elbow.
Delaplaine staff will be disinfecting frequently touched surfaces and shared items after each class.
Please contact us with any questions.
Support youth arts education!
The Art of Giving