HELEN SMITH FREE WORKSHOPS FOR KIDS
The Delaplaine offers free workshops that explore various artists and art techniques throughout history. These workshops are a part of our Community Outreach Initiative and are made possible through donations from the Helen L. Smith Scholarship Fund for Children and the Arts at the Community Foundation of Frederick County. Helen Smith Free Workshops for Kids are held on first Saturdays, 1–3 pm.
PLEASE NOTE: The Delaplaine is following health and safety protocols recommended by local, state, and federal agencies. If you or a member of your household have any symptoms of COVID-19, please stay home. While at the Delaplaine, follow our guidelines for wearing masks and social distancing.
Please contact us with any questions.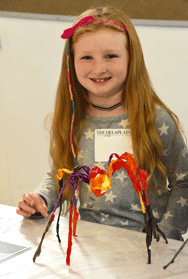 Preregistration is required. The registration request form is available below, beginning at noon on Tuesday two weeks prior to each workshop. Submitting a registration request form is not a guarantee of enrollment; you will receive email confirmation (or regrets) based on availability. Preference is given to first-time participants.
Helen Smith Workshops are geared for children.
No unauthorized visitors are permitted.
Parents are welcome to visit the galleries while the workshops are in session.
SATURDAY, JAN 8 • 1–3 PM
The registration request form for January 8
will be available
on Tuesday, December 28, at noon.
Fabric Collage (Ages 6–8)
Kelli Harrison
Use fabric and collage techniques to create a work of art inspired by Lloyd Kiva New, a pioneer of modern Native American fashion design and the Delaplaine's winter Artist of Inspiration!
Personal Narrative Zines (Ages 9–12)
David Modler
Become a "zinester!" Discover the process of making and self-publishing small-circulation publications and explore personal stories as content to create your own zine.
SATURDAY, FEB 5 • 1–3 PM
The registration request form for February 5
will be available
on Tuesday, January 25, at noon.
Pictorial Storytelling (Ages 6–8)
Kelli Harrison
For centuries, Great Plains Indians have used images to create artwork that records events and tells stories. Learn about this form of narrative art, and then write and illustrate your own story using kraft paper and natural materials.
Super Heroes and Artist Trading Cards (Ages 9–12)
David Modler
Experiment with the phenomena of artist trading cards (ATCs), miniature pieces of art that are traded around the world! Create five or more ATCs based on your favorite super heroes, explore the process of using mixed-media, and trade and collect art at our own "swap" event.
SATURDAY, MAR 5 • 1–3 PM
The registration request form for March 5
will be available
on Tuesday, February 22, at noon.
Pueblo Storytellers (Ages 6–8)
Kelli Harrison
Use air-dry clay to create a sculpture in the style of a Pueblo Storyteller Doll! These open-mouthed, storytelling (or singing) figures are surrounded by children and made by the indigenous Pueblo people of New Mexico.
Bookbinding Fun (Ages 9–12)
Lauren Koch
Discover the basic principles and techniques of Japanese stab bound books while exploring their significance. Create your own, perfect for sketching, jotting down memories, or gift giving.
Support youth arts education!
The Art of Giving