CLASSES & WORKSHOPS FOR TEENS & ADULTS
Winter 2020/2021
Registration for our Winter semester is OPEN!
PLEASE NOTE: Dates of each class may change as we receive health advisory updates.
The Delaplaine is following health and safety protocols recommended by local, state, and federal agencies. Students are asked to follow these guidelines:
Before coming to class, be alert for symptoms. Watch for fever, cough, shortness of breath, or other symptoms of COVID-19. If you or a member of your household have any of these symptoms, stay home.
While at the Delaplaine:

Face masks are required at all times, including inside classrooms.
The Delaplaine is practicing physical distancing in all areas. Please stay 6' apart from others at all times and respect the Delaplaine's guidelines for moving through the building and spacing apart.
Avoid sharing items and materials with others as much as possible.
Wash your hands often with soap and water for at least 20 seconds, especially: after using the restroom; after blowing your nose, coughing, or sneezing; after touching items shared with others.
Avoid eating in the classroom. If you must have something to eat, wash hands before and after doing so.
Avoid touching your eyes, nose, and mouth with unwashed hands.
Cover your mouth and nose with a tissue when you cough or sneeze or use the inside of your elbow.
Delaplaine staff will be disinfecting frequently touched surfaces and shared items after each class.
Please contact us with any questions.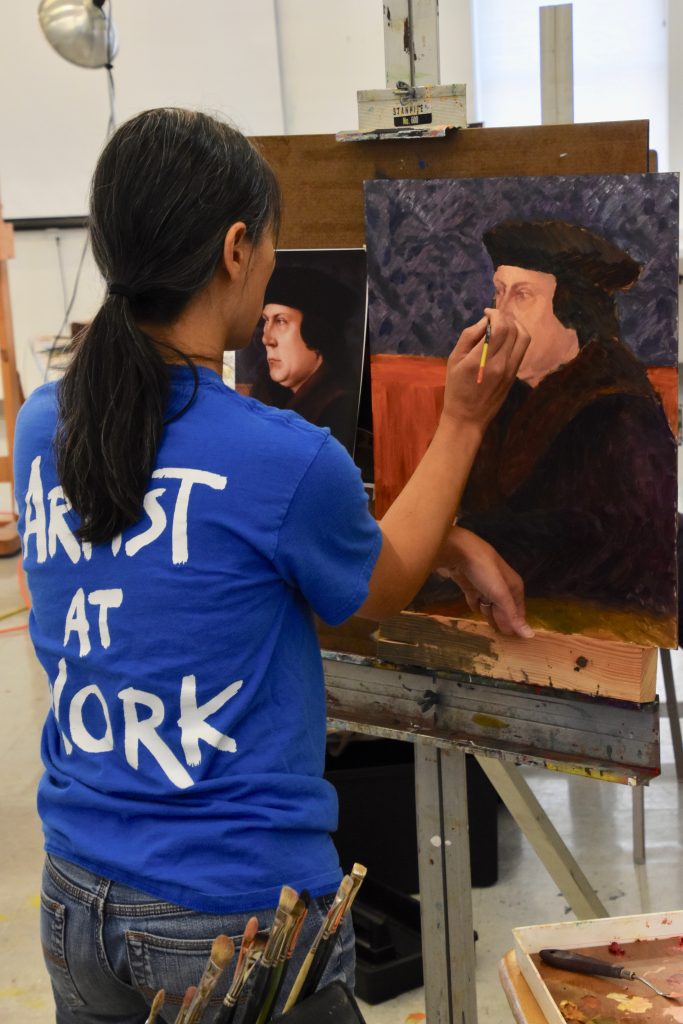 On each media page, courses are listed chronologically by start date. Click on course titles for full descriptions and tuition information. If the course you're looking for is not listed, please call 301-698-0656, ext. 110 to add your name to a waiting list.
Oil Painting Materials and Methods with Christopher Madden – January 9 (1-day workshop) 
Still Life Painting with Lee Newman – begins January 12 (8 weeks) CLASS IS FULL
Painting Abstracts with Ed Ramsburg
begins Tuesday January 12 (9 weeks) 
begins Wednesday January 13 (9 weeks) CLASS IS FULL
Watercolor and Wet Media with John Kachik – begins January 13 (6 weeks)
Guided Personal Directions with John Kachik – begins January 15 (9 weeks) CLASS IS FULL
Poured Painting (virtual class with video) with Janet Arsenault – begins February 2 (6 weeks)
Intermediate Jewelry with Gina Copanzzi – begins January 11 (9 weeks) CLASS IS FULL
Golden Embellishments with Kuem-Boo with Sukey Rankin –  January 30 (1-day workshop)
Absolutely Riveting with Sukey Rankin – February 7 (1-day workshop)
Metalsmithing Basics with Sukey Rankin – February 21 (1-day workshop)
Figure Sculpture with Lesa Cook – begins January 11 (9 weeks) CLASS IS FULL
Please see our YOUTH page for an Intro to Woodworking workshop for Grades 5-8 in January
Please see our YOUTH page for two exciting one-day family workshops! 
Support visual arts education!
The Art of Giving