CLASSES & WORKSHOPS FOR TEENS & ADULTS
PLEASE NOTE: Currently, masking is not required in youth or teen and adult classes and workshops at the Delaplaine. Those wishing to mask are encouraged to do so. The Delaplaine reserves the right to change its masking policy at any time based on current circumstances and guidance, and masking may or may not be required for upcoming classes. If you or a member of your household have any symptoms of COVID-19, please stay home.
Please contact us with any questions.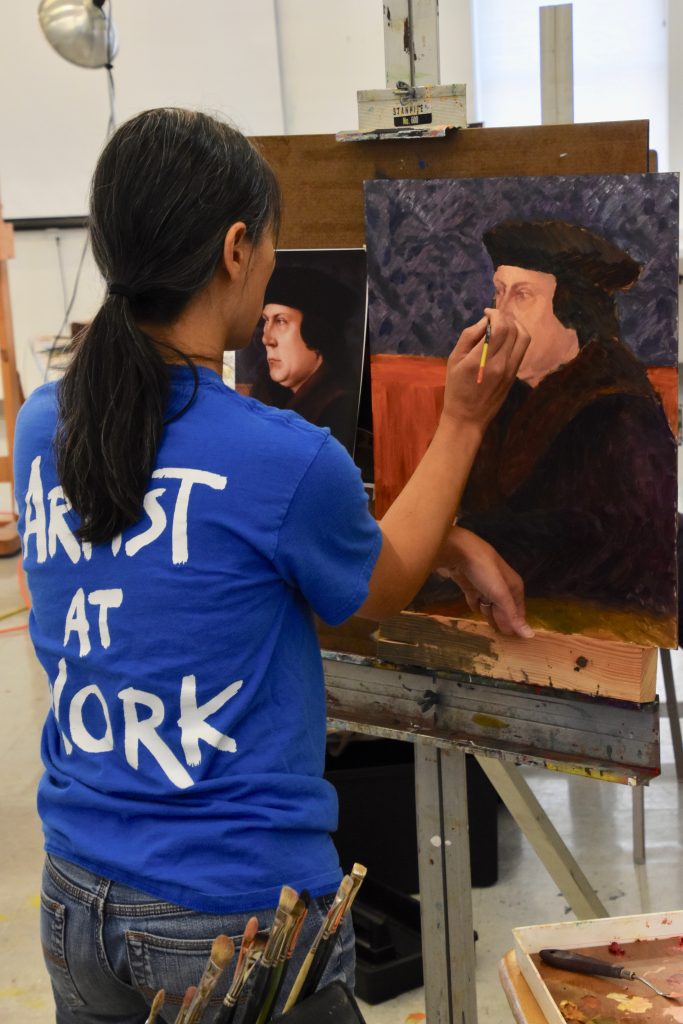 On each media page, courses are listed chronologically by start date. Click on course titles for full descriptions and tuition information. If the course you're looking for is not listed, please call 301-698-0656, ext. 110 to add your name to a waiting list.
Are You a Delaplaine Member?
Delaplaine members receive a $25 discount on tuition! If you would like to join or renew your membership before registering for an upcoming class or workshop, click here.
Open Ceramics Studio – adults
Instructor Lauren Koch – Tuesdays, May 30 to June 20
Throwing and Handbuilding with Ceramics – adults — This class has been cancelled
Instructor Allison Severence – Thursdays, June 29 to August 24 (12:30pm-3:00pm)
Throwing and Handbuilding with Ceramics – adults
Instructor Allison Severence – Thursdays, June 29 to August 24 (3:30pm-6:00pm)
Throwing and Handbuilding with Ceramics – adults
Instructor Allison Severence – Thursdays, June 29 to August 24 (6:30pm-9:00pm)
Exploring Ceramic Surface Decoration with Tile Making – 16 and older
Instructor Mindy McCormick – Mondays and Wednesdays, July 10 to July 19
Wheel for an Afternoon – 16 and older — This class is now FULL
Instructor Mindy McCormick – Saturday, July 15
Ceramic Gnomes – 14 and older
Instructor Mindy McCormick – Saturday, July 22 and Sunday July 23
Drawing the Hands – ages 17 and older
Instructor Lesa Cook – Saturday, May 13
Figure Drawing Open Studio– adults
Instructor Chris Madden – Sundays, July 2 to July 23
Figure Drawing Open Studio– adults
Instructor Chris Madden – Sundays, August 6 to August 27
Fundamental Drawing with Varied Surfaces – adults
Instructor Virginia Warwick – Mondays, July 10 to August 7
Drawing the Head – ages 15 and older
Instructor Lesa Cook – Thursdays, July 20 to August 24
Introduction to Metalsmithing – ages 16 and older — This class is now FULL
Instructor Gina Copanzzi – Saturday, June 3 & Sunday, June 4
Intermediate Jewelry – adults — This class is almost full, please call to register
Instructor Gina Copanzzi – Mondays, June 19 to August 28
Jewelry for the Advanced Beginner – adults
Instructor Gina Copanzzi – Tuesdays, June 20 to August 29
Open Abstract Studio: Mini-Class 1 – adults
Instructor Calvin Edward Ramsburg – Tuesdays, June 20 to July 25
Open Abstract Studio: Mini-Class 2 – adults
Instructor Calvin Edward Ramsburg – Tuesdays, August 8 to August 29
Open Abstract Studio: Intermediate and Advanced Students – adults
Instructor Calvin Edward Ramsburg – Wednesdays, June 28 to August 23
Open Abstract Studio: All Levels – adults
Instructor Calvin Edward Ramsburg – Thursdays, June 29 to August 24
Guided Personal Directions in the Studio – adults
Instructor John Kachik – Fridays, June 23 to August 25
Introduction to Watercolor and Wet Media – adults
Instructor John Kachik – Wednesdays, June 28 to August 16
From Photos to Painting: Exploration in Oil Painting – ages 13 to 18
Instructor Virginia Warwick – Mondays, July 10 to August 7
The Power of your iPhone Camera Part Two – ages 17 and older — This class has been cancelled
Instructor Carol Leadbetter – Saturday, May 27
Mindfulness Practice Photo Walk– adults
Instructor Laura Sherwood – Saturdays, June 24 to July 15
Unleashing the Power of Your iPhone Camera – ages 17 and older
Instructor Carol Leadbetter – Saturday, July 29 to Sunday, July 30
Travel Photography Using Your iPhone Camera– ages 17 and older
Instructor Carol Leadbetter – Sunday, August 13
Figure Sculpture– adults — This class is almost full, please call to register
Instructor Lesa Cook – Tuesdays, June 20 to August 22
Sculpting from the Masters: High Relief – ages 15 and older
Instructor Lesa Cook – Wednesdays, July 26 to August 30
Sculpting Animals as Ideas– ages 17 and older
Instructor Darla Jackson – Sunday, September 3
Introduction to Woodturning – 14 and older – This class is now FULL
Instructor David Swiger from Mid-Maryland Woodturners Club– Saturday, July 29
Open Exploration in Visual Journals – ages 14 and older
Instructor David Modler – Saturday, June 10 & Sunday, June 11
Adventures in Glass Beadmaking 1 – 17 and older – This class is now FULL
Instructor Nolly Gelsinger from Frederick Hot Glass Society – Saturday, July 8 and Sunday July 9
Intro to Origami– adults
Instructor Joh Ricci – Saturday, July 15
Positive and Negative Collage – 14 and older
Instructor Julie Maynard – Saturday, July 22 and Sunday, July 23
Exploring Collage: Hot Summer Night Sky – ages 14 and older
Instructor Julie Maynard – Saturday, August 5 to Sunday, August 6
Weaving on a Simple Frame Loom– adults
Instructor Joh Ricci – Saturday, August 12, Sunday, August 13 and Saturday, August 19