SUMMER CAMPS 2021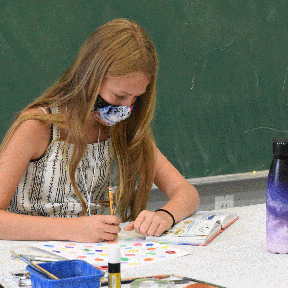 The Delaplaine is offering EIGHT weeks of fun and creative visual arts camps for kids and teens this summer! Choose from more than 30 camps for ages 6–10 and 10–14. Each camp runs Monday–Friday (except Week 3, which is three days, Wednesday–Friday), with two sessions each week, morning (10 am–12 pm) and afternoon (1–3 pm).
Due to health and safety protocols, students may not attend both AM and PM camps in the same week. 
The Delaplaine's summer camp program is Maryland Department of Health certified. The well-being of the students is our first priority, and we follow COVID-19 prevention health and safety protocols recommended by local, state, and federal agencies. Some of these protocols include: health screening requirements for all campers and staff, face masks worn by campers and staff at all times, and physical distancing.
Weeks 1, 2, 4–8: COST $150 ($125 members) per camp
Week 3: COST $100 ($75 members) per camp
Week 8 • August 9–13
Click the camp listing below to see a description or to register for camp.
Resist Painting & More! (ages 6–10) This camp is now FULL
Sophie Cochran • 1–3 pm
Support art opportunities and scholarships for kids!
The Art of Giving