SUMMER CAMPS 2021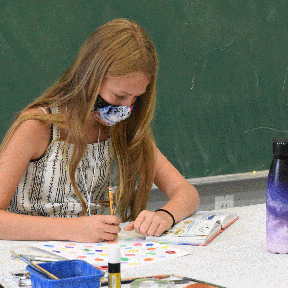 The Delaplaine is offering EIGHT weeks of fun and creative visual arts camps for kids and teens this summer! Choose from more than 30 camps for ages 6–10 and 10–14. Each camp runs Monday–Friday (except Week 3, which is three days, Wednesday–Friday), with two sessions each week, morning (10 am–12 pm) and afternoon (1–3 pm). Due to health and safety protocols, students may not attend both AM and PM camps in the same week. At this time, only Maryland residents can register for summer camps.
The Delaplaine's summer camp program is Maryland Department of Health certified. The well-being of the students is our first priority, and we follow COVID-19 prevention health and safety protocols recommended by local, state, and federal agencies. Some of these protocols include: temperature screening upon arrival, face masks worn by campers and staff at all times, physical distancing, and aggressive cleaning regimens.
Weeks 1, 2, 4–8: COST $150 ($125 members) per camp
Week 3: COST $100 ($75 members) per camp
Click below for links to descriptions of camps offered that week and to register.
Amazing Animals (ages 6–10)
Kelli Harrison • 10 am–12 pm
Starting Points in Oils (ages 10–14)
Virginia Warwick • 10 am–12 pm
Weaving 101 (ages 6–10)
Sarah Romagnoli • 1–3 pm
Creating with Metal (ages 10–14)
Sukey Rankin • 1–3 pm
Art & Nature Explored (ages 10–14)
Virginia Warwick • 10 am–12 pm
Intro to Woodworking: Animals (ages 10–14)
Jeff Woytowich • 10 am–12 pm
Art of the Masters (ages 6–10)
Kelli Harrison • 1–3 pm
Prehistoric Creatures Exploration  (ages 6–10)
Allyson Mandich • 10 am–12 pm
Fun with Origami (ages 6–10)
Sukey Rankin • 1–3 pm
Endangered Animal Prints (ages 10–14)
Kelli Harrison • 1–3 pm
True Blue! (ages 6–10)
Kelli Harrison • 10 am–12 pm
Drawing Games (ages 10–14)
David Modler • 10 am–12 pm
Intro to Woodworking: Vehicles (ages 10–14)
Jeff Woytowich • 10 am–12 pm
Exploring Marker Painting (ages 6–10)
Sarah Romagnoli • 1–3 pm
More Fun with Metal (ages 10–14)
Sukey Rankin • 1–3 pm
Adventures in Watercolor (ages 6–10)
David Modler • 10 am–12 pm
FUNdamentals of Art (ages 10–14)
Virginia Warwick • 10 am–12 pm
Rubber Band Race Cars (ages 10–14)
Jeff Woytowich • 10 am–12 pm
Food Sweets (ages 6–10)
Allyson Mandich • 1–3 pm
Clay Creations (ages 10–14)
Carissa Barnum • 1–3 pm
Making Your Own Comics (ages 6–10)
David Modler • 10 am–12 pm
Interpretive Costume Design (ages 10–14)
Virginia Warwick • 10 am–12 pm
Intro to Woodworking: Dinosaurs (ages 10–14)
Jeff Woytowich • 10 am–12 pm
Summer Fun (ages 6–10)
Kelli Harrison • 1–3 pm
Food Close-Ups (ages 10–14)
Allyson Mandich • 1–3 pm
Artist Trading Cards & Zines (ages 6–10)
David Modler • 10 am–12 pm
Prehistoric Creatures Deep Dive (ages 10–14)
Allyson Mandich • 10 am–12 pm
Modeling Clay Magic (ages 6–10)
Sarah Romagnoli • 1–3 pm
Plethora of Puppets (ages 10–14)
Carissa Barnum • 1–3 pm
Barrage of Collage (ages 6–10)
David Modler • 10 am–12 pm
Resist Painting & More! (ages 6–10)
Sarah Romagnoli • 1–3 pm
Support art opportunities and scholarships for kids!
The Art of Giving