EXHIBITIONS
The Delaplaine offers five main galleries on two floors showcasing local, regional, and national artists. In addition, the Community Art Gallery features artworks from local schools and nonprofit organizations, and the Community Outreach Gallery primarily features artwork created through our Community Outreach program partnerships. Galleries are open daily and admission is free.
The Delaplaine also operates three satellite galleries in partnership with Frederick County Public Libraries.
Meet the Artists
Join us on most First Saturdays for new exhibition openings and meet the artists, 3–5 pm.
View links to our Flickr albums of past exhibitions.
Michael Bruner
Mike do this, Mike do that, Mike don't do that
Pencil and graphite drawings
Inspired by surrealism and memory, Bruner's highly detailed drawings use beauty, humor, and repulsion to reflect on the complexities of identity and subliminal thoughts and emotions.
MAY 6–JUN 25
Robert Cantor
Family Album
Oil paintings
Cantor's paintings celebrate the peculiarities of nostalgia and memory while alluding to the way that time, technology, and consumer culture have shaped those memories and irrevocably altered the dreams and aspirations associated with them. Starting with black-and-white snapshots from his childhood, Cantor uses figures from his extensive pencil sharpener collection to replace himself and his brothers wherever they appear.
MAY 6–JUN 25
Danielle Hawk
Romancing (Im)Perfection
Ceramics
Hawk's works are domestic objects stripped of their purpose. Using their function as a metaphor for productivity and social performance, their uselessness becomes a symbol of the impossibility of achieving societal calls for constant perceived perfection.
MAY 6–JUL 9
National Juried Exhibition
Works in a variety of media
The Delaplaine's annual juried show features works by artists from around the region and the nation.
ABOUT THE JUROR: Foon Sham is a sculptor and professor at the University of Maryland, College Park. He has sawed, cut, laminated, stacked, carved, and assembled a multiplicity of soft and hard wood into organic and geometric forms from small to massive pieces. His art echoes his personal feeling to nature, disaster, and the particular environment. Born in Macao and raised in Hong Kong, Sham received a BFA from the California College of Arts and Crafts and an MFA from Virginia Commonwealth University. Since 1980, he has had over 40 solo exhibitions and has participated in over 115 group exhibitions in galleries and museums in the U.S. and around the world.
MAY
Transformative Arts Project

MAY–JUN
The Frederick Center

JUL 1–AUG 27
Raymond Burns
Heavy Metal
Oil paintings
Easily mistaken as merely utilitarian and unattractive, Burns hopes to elevate the character and the beauty that exists in the form, color, and texture of railroad equipment, engines, cabooses, boxcars, and railroad structures in various states of use and decay.
JUL 1–30
Frederick County 275th Anniversary Exhibition
Work in a variety of media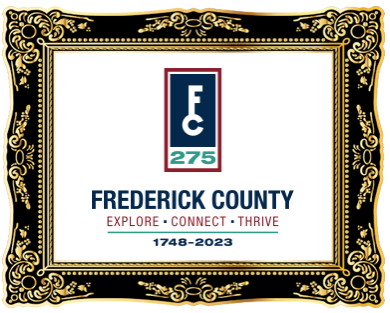 In honor of the 275th anniversary of the founding of Frederick County, this invitational features works created by local and regional artists and inspired by stories from the county's past. Presented in partnership with the Frederick County Historic Sites Consortium.
JUL 15–AUG 27
Over 70 Show
Works in a variety of media
A signature of the Delaplaine's Creative Aging Month, this annual exhibition celebrates local artists over age 70 and showcases a wide range of styles, techniques, and interests.
CALL FOR SUBMISSIONS: Artists of all skill levels, age 70 or older, are invited to submit one work of art in any medium. Deadline for submissions is June 30. Click here for more information.
JUL
Frederick County Home Instruction Exhibition

JUL–AUG
M&T Senior Scholarship in the Arts Show

AUG 5–27
Pat Scull
Outside-In, Inside-Out
Paintings and sculpture
With influences from fossils, crystals, and bones and an examination of the forced life of isolation and interruption in the pandemic, Scull's work uses both the microscopic and telescopic resources of human perception to think about where humanity fits within the cosmos.
AUG
The Arc of Frederick County

SEP 2–OCT 29
Contemporary Innovations:Darla Jackson
This will hurt me more than it hurts you
Sculpture
Philadelphia-based sculptor Darla Jackson attempts to reverse the perception of women's self-defense often perpetuated by popular culture or omitted completely. The exhibition will include the imaginary weapons used by popular female characters as well as some of the animal sidekicks supporting these characters in their new roles.
SEP 2–OCT 1
TAG/The Artists Gallery
Together Art Grows
Works in a variety of media
Artwork in this exhibition is from the members of TAG, Frederick's first artist-owned art gallery, which was established in 1990.
SEP 2–OCT 29
Amy Browning-Dill
Poiema, Mortality, and Resurrection
Paintings and sculpture
The paintings and sculptures in this exhibition explore themes of death, decay, and new life through the flora and fauna of the changing seasons. They are accompanied by excerpts of poetry from Rainer Maria Rilke, David the Psalmist, and others.
SEP 2–OCT 29
Heidi Brueckner
Persona Grata
Oil and mixed media paintings
Brueckner's large-scale, figurative paintings explore themes like human nature, self-understanding, and the relationship we have to storytelling, all by utilizing expressive color and experimenting with textured surfaces.
SEP 2–OCT 29
John Petro
Snapshots from a BaltimoreCommunity on the Edge
Photography
This exhibition is the culmination of Petro's project to document some of the community and culture in and around a half-mile section aroundWilkins Avenue in southwest Baltimore, MD.