EXHIBITIONS
The Delaplaine offers five main galleries on two floors showcasing local, regional, and national artists. In addition, the Community Art Gallery features artworks from local schools and nonprofit organizations, and the Community Outreach Gallery features artwork created through our Community Outreach program partnerships. Galleries are open daily and admission is free.
The Delaplaine also operates three satellite galleries in partnership with Frederick County Public Libraries.
Meet the Artists
Join us on most First Saturdays for new exhibition openings, 3–5 pm.
View links to our Flickr albums of past exhibitions.

Join us in November for our biennial celebration of photography!
DEC 3–31
Clustered Spires Quilt Guild
The Colors of Our World
Fiber works
The works in this exhibition are a response to the Guild's 2022 challenge to themselves to incorporate all seven colors of the rainbow in works that illustrate their discoveries about color and pattern. Founded in 1999, the Clustered Spires Quilt Guild welcomes quilters of all skill levels as they advance in their mastery of working with fiber.
DEC 3–31
Frederick Camera Clique
Members Exhibition
Photography
For more than 30 years, the Frederick Camera Clique has dedicated itself to improving the skills of its members, which range from beginners to semi-professionals.
NOV 5–DEC 31
Sean Dudley
Accretion
Photography and mixed media
Through a series of manipulation processes, Dudley's photography focuses on the—sometimes imperceptible—changes in human experience through the accretion of time and experience.
NOV 5–DEC 31
Jillian Abir MacMaster
With Teeth
Photography
MacMaster is a Palestinian-American photographic artist from Frederick whose exhibition With Teethis a look into invulnerability and displays of protection and survival through something as ubiquitous as facial expression.
NOV 5–DEC 31
Ed Palaszynski
Life Forms
Photography
Life Formsis a photographic exploration into the diversity and complexity of life and Palaszynski's response to the question, "What does life look like?
NOV–DEC
Delaplaine Board and Staff Showcase

DEC
Maryland School for the Deaf Student Artwork

JAN 7–29
Frederick County Art Association
Members Exhibition
Work in a variety of media
The annual FCAA exhibition features artworks in a variety of media, including fiber, photography, sculpture, and more from their approximately 100 members, who range from casual painters to full-time professionals. Vote for your favorite piece at the front desk; the artwork with the most votes will receive the People's Choice Award.
JAN 7–29
Virginia Warwick
Dimensions In Between
Mixed media
In this exhibition, Warwick creates work with familiar materials that combines them with themes inspired by the natural world to elevate nature and animals to a human level and create a bridge connecting the two worlds.
JAN 7–FEB 26
Keith Kozloff
Drifting Through Deep Time
Photography
Kozloff's exhibition is a reflection on "deep time," a term applied to how we conceive of geological timescales. Constructing a photographic narrative loosely based on Avalonia, a proto-continent which originated below the equator over half a billion years ago, Kozloff's work is a reflection on human attention and humanity's capacity to understand Earth's life support systems.
JAN 7–FEB 26
S. Manya Stoumen-Tolino
Natural Selection: Experiencing Change
Paintings
The idea of natural selection belongs to human ideas about how organic forms evolve and endure or not. In this series, S. Manya Stoumen-Tolino reflects upon major forms, lines and color experienced in the natural world that express the inherent changes constantly occurring in all living things.
JAN–FEB
Children of Incarcerated Parents Partnership Exhibition

JAN
Mt. Airy Christian Academy Student Artwork

FEB 4–26
Brad Blair
Divergent Entities
Works in ceramic
Blair's curiosity of the unknown, paired with a strong imagination and an inquisitive mindset, leads to him create art that provokes wonder and examination. The pieces in this exhibition are obscure oddities that help convey a message regarding this mysterious life we live, in a universe yet to be fully explored.
FEB 4–26
Brandon Olesky
Home Free: A Farewell to California
Photography
The photographs in this exhibition are a part of Oleksy's final farewell to the state he called home for as long as he can remember. The collection is comprised of scenes he and other residents had passed a thousand times and are both a remembrance of place and the start of calling a new place home.
FEB 4–26
When a Tree Falls
Woodturnings accompanied by works in a variety of media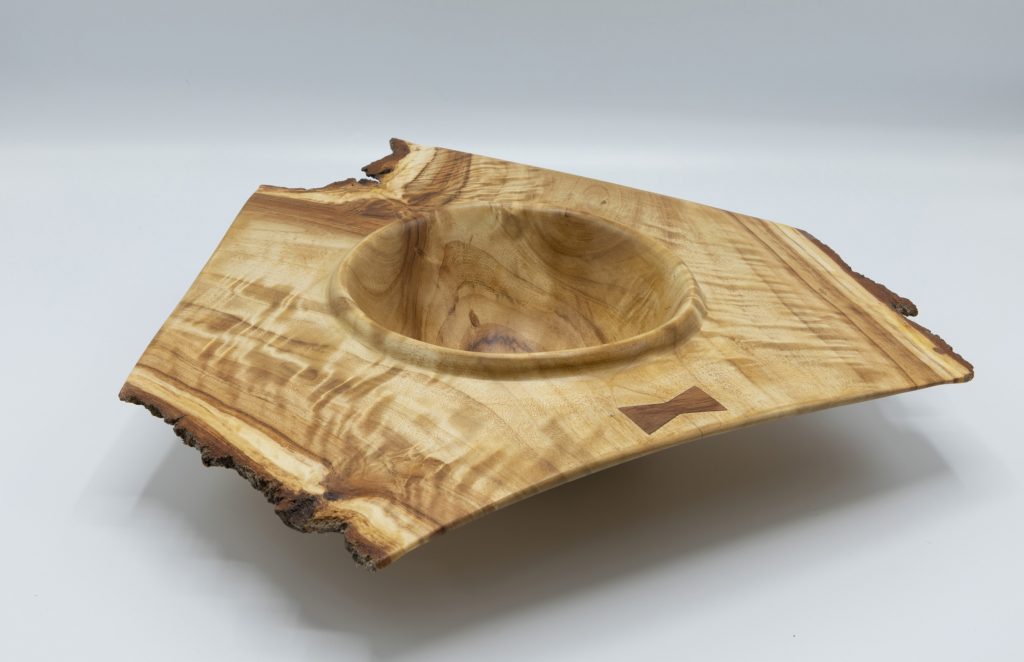 Selected woodturners from throughout Maryland join artistic forces with local Frederick artists for a tree-themed exhibition of handcrafted wood turnings presented alongside paintings, carvings, and print-making.
FEB
The Banner School Student Artwork

MAR 4–26
Frederick County Public Schools Youth Art Month Student Exhibition
Works in a variety of media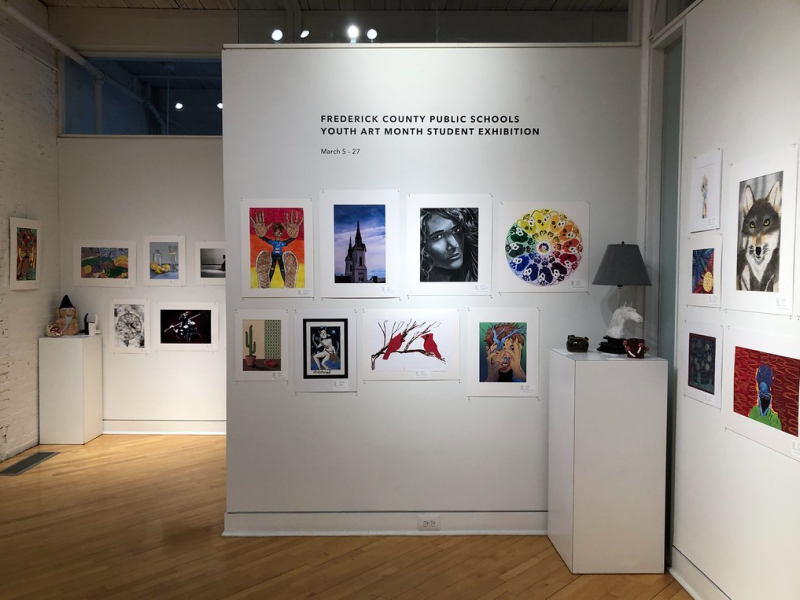 The annual Youth Art Month exhibition features hundreds of 2–D and 3–D artworks created by students from each public school within Frederick County.
MAR 4–26
Frederick County Public Schools Faculty Exhibition
Works in a variety of media
A salute to those who make Youth Art Month possible, this exhibition showcases the creative talents of Frederick County Public Schools educators.
MAR 4–APR 30
Bettie Awards Exhibition
Works in a variety of media
View artworks created by local youth selected as 2023 Bettie Award Winners. The winners will be announced on Facebook on February 11, and the Grand Prize Winner will be announced at a program on March 4 at 2 pm.
CALL FOR SUBMISSIONS: Inspired by Elizabeth Barker Delaplaine's lifelong support of the arts and strong belief in the importance of encouraging young artists, the Delaplaine presents the annual Bettie Awards program. We invite artists in grades 9–12 who reside or attend school in Frederick County, MD, to enter by February 1. Bettie Award winners receive $100, and the Grand Prize Winner receives $1,000. The artwork that receives the most votes during the exhibition is designated the People's Choice Award Winner, and its artist receives $250. Visit delaplaine.org to read the guidelines or to watch a short informational video.
The Bettie Awards are supported in part by the Frederick County Art Association.
MAR–APR
FCPS Youth Art Month Unified Exhibition