National Juried Photography Exhibition
The National Juried Photography Exhibition is held biennially in November at the Delaplaine as part of FOCUS, our month-long celebration of photography. Artists residing within the U.S. are invited to enter up to three (3) photographs for consideration. The entry fee is $35 per artist ($25 if the artist is a current member of the Delaplaine). All photographs, black & white, color, non-silver, computer-manipulated, digital, or pinhole are eligible.
Call for entries coming in summer 2024
Questions? Contact Corey Frey, Exhibitions Manager (301-698-0656 x108)
2022 Exhibiting Artists
Norman Aragones • Ruby Bassford • Lynne Breitfeller • Joshua Brinlee • Hadley Chittum • Domenic Cicala • Bonnie B. Collier • Chris Eliff • Vincent Ferrari • Morgan Ford Willingham • Michael Gallup • Todd Gardner • Dave Hanson • Sara Hinterlong • Andrew Hoff • Prescott Lassman • Yashoda Latkar • Carol Leadbetter • Samuel Levin • Caterina Maina • Ava Margueritte • Nathan Matteson • Jordan River Michaels • Ziru Mo • Paula Navarro • Shaina Nyman • Jelisa Peterson • Jenny Pivor • Walter Plotnick • Dafna Steinberg • Michael Hunter Thompson • Joe Williams • Mark Zimmerman
2022 Award Winners
First – $1,000: Hadley Chittum
Second – $500: Shaina Nasrin
Third – $250: Jordan River Michaels
Honorable Mention – $125:  Morgan Ford Willingham
About the 2022 Juror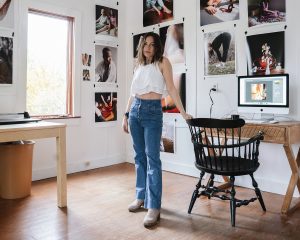 Hannah Altman is a Jewish-American artist from New Jersey. She has exhibited recently with the Virginia Museum of Contemporary Art, Blue Sky Gallery, Filter Photo, and Athens Photo Festival. Her work has been featured in publications such as Vanity Fair, Carnegie Museum of Art Storyboard, Huffington Post, and British Journal of Photography. She received the 2022 Hellerau Photography Award first prize in portraits, and the 2021 LensCulture Critics' Choice Award.