It's Never Too Late to Support the Arts!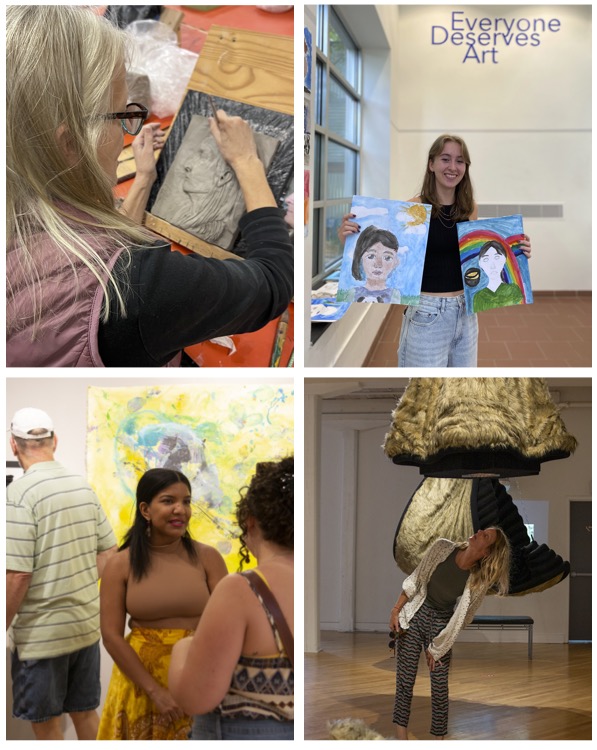 This year has been an exciting one as we have impacted tens of thousands of local residents and visitors of all ages. The depth and breadth of that impact is only possible with the generous support of friends like you—thank you!
Our efforts to share visual arts opportunities and experiences are even more important now. That's why we continue to improve on the more than 50 quality exhibitions featuring local and regional artists, 2,000+ hours of engaging classes and workshops in a variety of media for people of all ages and abilities, and dozens of public programs the Delaplaine presents each year. We remain committed to lowering barriers through things like free gallery admission and programs and expanding the opportunities we provide through our local nonprofit partners (read more about our Community Outreach programs here). But we can't do it on our own.
Your support is essential. If you haven't yet contributed to our Annual Fund this year, it's not too late (and if you have, thank you so much!). Your gift today will help to ensure another year of visual arts programs that make a difference in the lives of individuals and families in our community, because, truly, everyone deserves art. Please use the link to make the arts flourish even brighter this holiday season and into the New Year.
From all of us at the Delaplaine—YOUR arts center—thank you for your participation, encouragement, and support.

Duane Doxzen
CEO
If you prefer, you can mail your Annual Fund contribution check to:
The Delaplaine Arts Center, 40 S Carroll St, Frederick MD 21701
The Delaplaine Arts Center, Inc. is 501(c)(3) nonprofit organization, and all contributions are deductible to the fullest extent allowed by law. All donations are acknowledged. A copy of our current financial statement is available upon request by contacting us (301-698-0656). Documents and information submitted to the State of Maryland under the Charitable Solicitations Act are available for the cost of copying and postage. Tax ID #52-1481592