EVERYONE DESERVES ART
The Delaplaine is committed to make art increasingly accessible to all, bringing art education and experiences to young and old, regardless of background or economic level. Seniors, preschoolers, adults with disabilities, homeless and at-risk youth, and economically disadvantaged people of all ages are just some of those who are served through our Community Outreach initiative.
We work with other nonprofit organizations and public agencies to create programming specific to the needs of their clients. Through these partnerships, we bring a variety of engaging and educational visual art experiences to enhance the quality of life for thousands of people each year. Some of our current and past partners include:
The Arc of Frederick County
Alzheimer's Association of Frederick County
Boys & Girls Club of Frederick County
Children of Incarcerated Parents Partnership
Daybreak Adult Day Services
Frederick County Department of Aging
Frederick County Health Department, On the Mark Adolescent Clubhouse
Heartly House
Hope After School Program
Housing Authority of the City of Frederick
The Judy Center
Way Station Camp Journey Respite Program
YMCA of Frederick County Head Start Program
The initiative also includes one-time programs and activities like the Art Kit Project, which provides quality art supplies to youth in crisis and/or experiencing homelessness, distributed through our organizational partners.
The Delaplaine Art Center's generous invitation to include our public housing residents in art classes that would otherwise be out of reach, is indeed worth celebrating.  It is a true community art center that invites all community members from all walks of life to have a place in creating art." –Ann Ryan, Director of Family Services, Housing Authority of the City of Frederick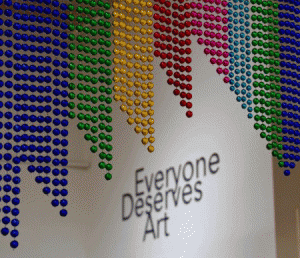 Thank you, the Alzheimer's Association of Greater Maryland, the Frederick Senior Center, and The Delaplaine Arts Center for sponsoring art classes for caregivers and their loved ones. … It has made a big difference in me and my life." –Partners in the Arts participant
Although formal organizational partners change from year to year, based on circumstance and the needs of our program partners, one thing that does not change is our commitment to realize our vision that "everyone deserves art." Essential to the success of our programs are the individuals, businesses, and organizations that support the Community Outreach initiative through donations and program sponsorships. We invite you to become an active participant and help us to bring life-changing arts experiences to all. You can sponsor directly through our Donate page.
For more information about supporting our Community Outreach programs or partnering with us, contact our Development Office.
Support art programs for underserved and at-risk audiences!
The Art of Giving