CLASSES & WORKSHOPS FOR TEENS & ADULTS
The Delaplaine is following health and safety protocols recommended by local, state, and federal agencies. If you or a member of your household have any symptoms of COVID-19, please stay home. While at the Delaplaine, follow our guidelines for wearing masks and social distancing.
PLEASE NOTE: Currently, masking is required in all classes and workshops at the Delaplaine. Masking may or may not be required for upcoming classes. The Delaplaine reserves the right to change its masking policy at any time based on current circumstances and guidance.
Please contact us with any questions.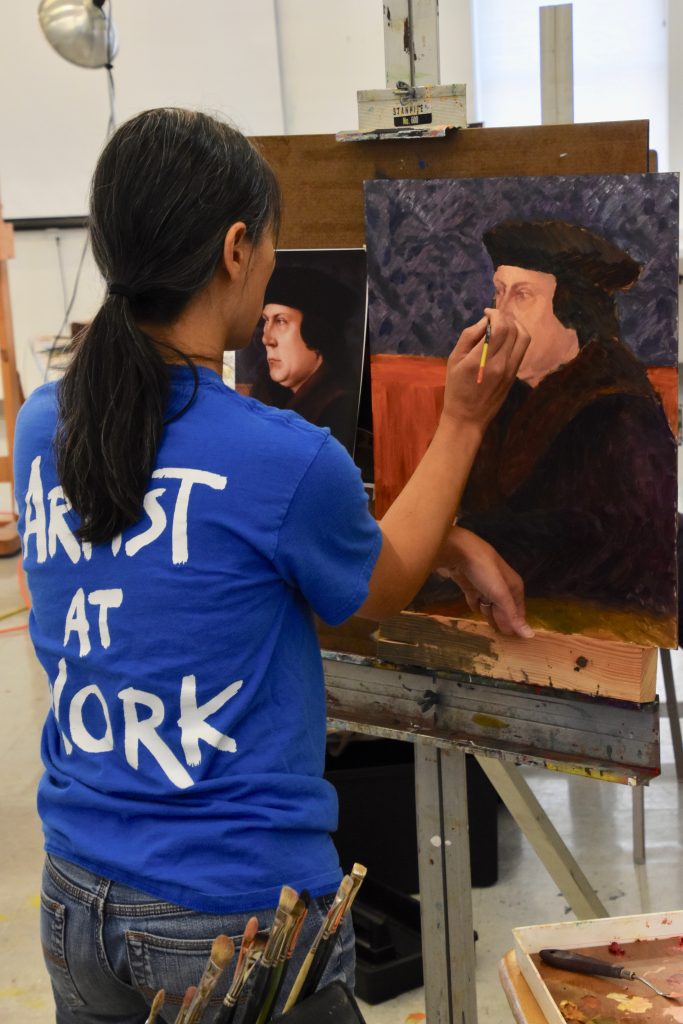 On each media page, courses are listed chronologically by start date. Click on course titles for full descriptions and tuition information. If the course you're looking for is not listed, please call 301-698-0656, ext. 110 to add your name to a waiting list.
Are You a Delaplaine Member?
Delaplaine members receive a $25 discount on tuition! If you would like to join or renew your membership before registering for an upcoming class or workshop, click here.
Experiments with Water-Soluble Graphite – ages 14 and older
Instructor Priya Vadhyar – Monday, June 20
Fundamentals of Sketching and Drawing for Teens – ages 13-18
Instructor John Kachik – begins June 21 (7 Tuesdays)
Drawing into Calm: A Mixed-Media Survey Course – adults
Instructor Jodie Schmidt – begins June 22 (6 Wednesdays)
Continuing Landscapes in Pastel – adults
Instructor Jodie Schmidt – begins July 11 (6 Mondays)
Exploring Applications of Charcoal and Graphite for Teens – ages 13-18
Instructor Virginia Warwick – Monday-Friday, August 1-5
Beginning Jewelry – ages 16 and older
Instructor Georgina Copanzzi – begins June 21 (9 Tuesdays)
Intermediate Jewelry – ages 16 and older — This class is now FULL
Instructor Georgina Copanzzi – begins June 20 (9 Mondays)
Galiano Island Relief Printmaking – ages 15 and older
Instructor David Modler – weekend of June 11 and 12 (rescheduled from May 14 and 15)
Interpretive Costume Design for Teens – ages 13-18
Instructor Virginia Warwick – Wednesday-Friday, June 22-24
Beginning Crochet – adults
Instructor Joh Ricci – Sunday, August 14
Beginning Macramé – adults
Instructor Joh Ricci – Saturday, August 20
Intro to Photography – adults
Instructor Joe Yablonsky – Tuesday, July 5, Saturday, July 16, and Tuesday, July 19
Watercolor and Wet Media – ages 16 and older
Instructor John Kachik – begins June 22 (7 Wednesdays)
Open Abstract Studio: Beginning Students – adults
Instructor Calvin Edward Ramsburg – begins June 28 (5 Tuesdays)
Open Abstract Studio: Intermediate and Advanced Students – adults
Instructor Calvin Edward Ramsburg – begins June 29 (9 Wednesdays)
Open Abstract Studio: All Levels – adults
Instructor Calvin Edward Ramsburg – begins June 30 (9 Thursdays)
Guided Personal Directions in the Studio – ages 16 and older
Instructor John Kachik – begins July 1 (9 Fridays)
Introduction to Portrait Painting in Oil for Teens – ages 13-18
Instructor Lesa Cook – begins July 9 (4 Saturdays)
Oil Painting for Teens – ages 13-18
Instructor Virginia Warwick – Monday-Friday, August 8-12
Sculpting Animals in Relief – ages 15 and older
Instructor Lesa Cook – begins July 11 (3 Mondays)
Support visual arts education!
The Art of Giving