LOCATION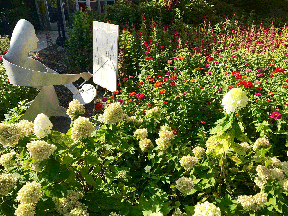 In the Heart of Downtown
40 South Carroll Street
Frederick, MD 21701
Along Carroll Creek Park in historic downtown
Accessibility

All public areas at the Delaplaine are wheelchair accessible. If you need additional accommodation or information, please email or call us at 301-698-0656.
PLEASE NOTE: The Delaplaine is following COVID-19-related health and safety protocols recommended by local, state, and federal agencies.
Face masks are required at all times for visitors, staff, and vendors.
The Delaplaine is practicing physical distancing in all areas. Please stay 6' apart from others at all times and respect the Delaplaine's guidelines for moving through the building and spacing apart.
HOURS
The Delaplaine is scheduled to reopen on June 15, 2020.
Open
Monday-Saturday, 9 am-5 pm
Sunday, 11 am-5 pm
FREE ADMISSION
Closed
New Years Day
Easter Sunday
Memorial Day
Independence Day
Labor Day
Thanksgiving
Christmas
Visit the Home page for other seasonal/holiday closings.
Support the visual arts in the region!
The Art of Giving