UPCOMING EXHIBITIONS
Join us on most First Saturdays for new exhibitions openings. View upcoming dates here.
Admission to our galleries is free!
Douglas Zaruba
The Art of Solitude
Paintings and Sculpture
Oct. 2-31
Through paintings and sculpture, Zaruba explores solitude saying, "Solitude is a dimension too complex to be captured by a single definition."
Veterans Show
Works in a variety of media
Nov. 6-28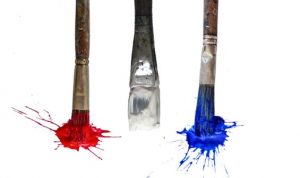 The Veterans Show is a biennial exhibition held in November showcasing artwork made by former service members of the United States military.  Veteran-artists are invited to submit one artwork for automatic entry into the 2021 Veterans Exhibition.  This years exhibition will be November 6 through the 28th, 2021.
CALL FOR ART: Go here for more information about how to be a part of this exhibition.
Carol Williams
The Craftivist
Quilted Wall Hangings
Nov. 6-Dec. 26
This exhibition explores the possibilities of quilting beyond its history as craft.  Comparing her work to political cartoons, Williams says she "uses fabric and buttons rather than pen and paper" in developing narratives around contemporary social issues.
Kimo Williams
Faces of Vietnam
Photography
Nov. 6-Dec. 26
Williams utilizes the inherent energy of photography as a means for community engagement.  The photographs in this exhibition focus on his time spent with the people of Vietnam.
John Godinet
A Passage in Time
Paintings and Sculpture
Nov. 6-Dec. 26
Using bold brushstrokes and, eventually–with diminished dexterity resulting from his battle with ALS– his hands and fingers for paint application, these brightly colored works reflect the late artist's childhood in Samoa and his battle with his health.
Support visual arts exhibits at the Delaplaine!
The Art of Giving