Game Changer: New Event Deck at the Delaplaine
If you live in the Frederick area, there's a good chance that you've attended a wedding reception, birthday or anniversary party, gala, lecture, community forum, business conference, or some other event in the Delaplaine's Gardiner Hall. On January 31, Gardiner Hall's newest and most exciting amenity was dedicated: the Event Deck. Two sets of French doors now open onto a handsome 1,000- square-foot deck overlooking beautiful Carroll Creek Park. The deck features durable composite decking, cable rails, and an artful wood and corrugated metal base enclosure and accents.
The deck was funded entirely through private donations made by George Delaplaine, Jr., Ted Delaplaine, and Todd Wilson. "Two years ago, they approached the Board and asked what large project was on our wish list—something we could really use but not afford," Catherine remembers. "We've dreamt of having a space like this ever since something similar, which was originally part of the Gardiner Hall wing design in 1998, had to be eliminated during construction because of the cost. Now, George, Ted, and Todd have made this long- time dream a reality. Their generosity and support of the arts center has been nothing short of overwhelming over the years, and we can't thank them enough."
In addition to providing an outdoor space for the Delaplaine's own programs and events, the deck also is available for individuals and organizations that hold activities in Gardiner Hall. "Having the deck really is a game changer for our rental clients," states Marilyn Orsinger, Director of Facilities & Rentals at the Delaplaine. "It not only increases our capabilities, but also opens up new possibilities. To have the new Event Deck overlooking one of the most scenic spaces in historic downtown Frederick is fabulous. Those who have seen it are very excited—almost as excited as we are!"
The Delaplaine is the perfect downtown venue for your next special gathering. For more information contact us. Our reputation is built on attention to details and excellent service. Plus, we have a really cool Event Deck!
Art Carry-Out: Art Kits for Youth in Crisis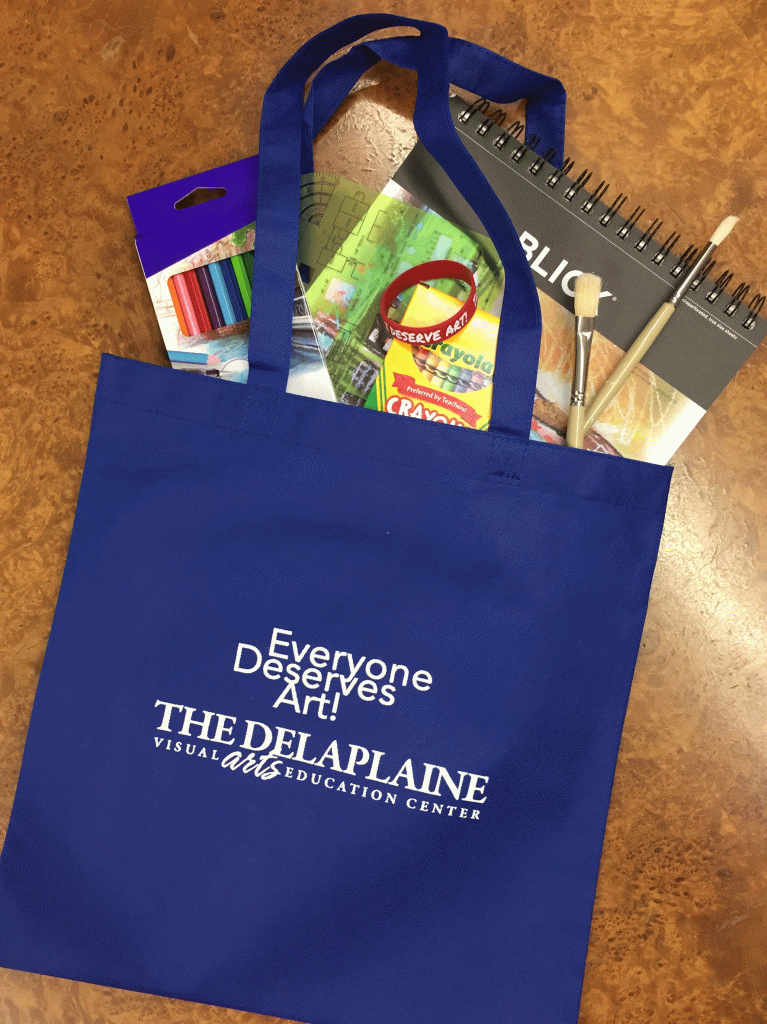 This spring, the Delaplaine's Art Kit Project will again bring art opportunities to youth who otherwise might not have access to them. The program provides quality art supplies to youth in crisis, distributed through our nonprofit partners. According the U.S. Department of Health and Human Services, art activities raise a sense of awareness and build resilience and well-being. The National Art Education Association reports that art also helps youth make sense of homelessness and is an effective form of communication. "Unfortunately, youth in crisis often miss out on opportunities for art expression," states Cindy Yount, Community Outreach Programs Manager at the Delaplaine. "This program is one important way we can address the need by bringing art to them, where they are."
Art Kit canvas bags, printed with the Delaplaine vision "Everyone Deserves Art," include a mixed-media sketchbook, crayons, watercolor pencils, brushes, and a shape template/ruler. The program is funded, in part, through the generosity of the Sharon I. Hooper Fund for Children at the Community Foundation of Frederick County, and the G. Frank Thomas Foundation. For more information about the program, contact us.